"Thinking is the hardest work there is, which is probably why so few engage in it."

- Henry Ford (Quotations Book).
Henry Ford was born to Irish immigrants on July 30th, 1863 on a small farm in Dearborn, Michigan. Because Ford lived on a small farm, he had limited educational opportunites, barely completing a few years of grade school (Gourley). At the age of 12, Ford's mother died giving birth. Ford was devastated, since he was very close to his mother. He kept her close to his heart for the rest of his life. At a young age, Ford was left without a mother, and his relationship with his father was very strained (Watts). To pass the time, Ford would break apart and then reassemble things. He was especially gifted with watches (Gourley). Although he was great with watches, his true passion was in machinery. He was absolutely fascinated with how machines and things worked, and this would be the force that would push him into the machinery business.
Even though Ford grew up on a farm, he very much disliked his farming lifestyle. Ford knew that he would never be the accomplished inventor that he passionately wanted to be in this environment. So at the age of 17, he packed up his things and traveled to nearby Detroit, to accomplish his goals of working on machinery. Once there, he took up his first job as a machine apprentice at the Michigan Car Company and worked as a watch repairman on the side ('Henry Ford 1863-1957'). After a few years attending a business school part-time in Detroit and completing his apprenticeship, Ford began to work for the Edison Illuminating Company as an engineer (Oak). His passion for machinery was recognized beyond his years, and soon enough he was promoted to chief engineer (Davis). Ford's new position required him to be on-call for 24 hours a day ('The Life of Henry Ford'). Because constant contact with machinery brought about his new job, Ford learned many things that really inspired him to do something great. He therefore dedicated his life to industrial pursuits. He wanted to do things that would really push him to the top. Thus the foundation was set for a lasting legacy.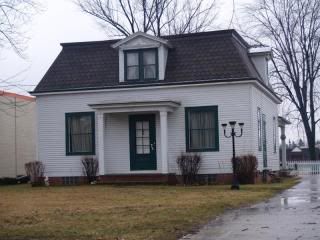 (Source of Image top: Downloaded from superstock.com)
(Source of Image bottom: Downloaded from www.pbase.com/papajim_ 48306/image/55692985).